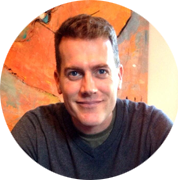 Sean Seidell
Triathlon Enthusiast • Father to 2 Awesome Kids • Really Bad Dancer
Everything began in 2013 with a block of cheese.  I knew nothing about Wensleydale and at $17 per pound I wanted some understanding of what Wensleydale is like before purchasing a cheese of unknown characteristics.  I was curious so I started studying the high identifying traits of cheeses.  It was fascinating.  I wanted to share what I'd learned in an easy to use manner that could be immediately applied and decided to try my hand at creating infographics.  I'd studied art and dabbled as a graphic designer from time to time.  The idea of combining science with art was captivating.
The world wide success of the infographics took me by surprise.  It fills me with joy and gratitude knowing these data visualizations are used and enjoyed all over the world.  As a result of the demand for prints and downloads of the infographics I became trained as an eCommerce web developer to supply the demand.  For the past several years I've been working as an eCommerce developer and project manager in addition to creating infographics.
Thank you for your interest in my work.  It means the world to me.